Computerized Wire Stripping Machine, Cable Stripping (round jacket model)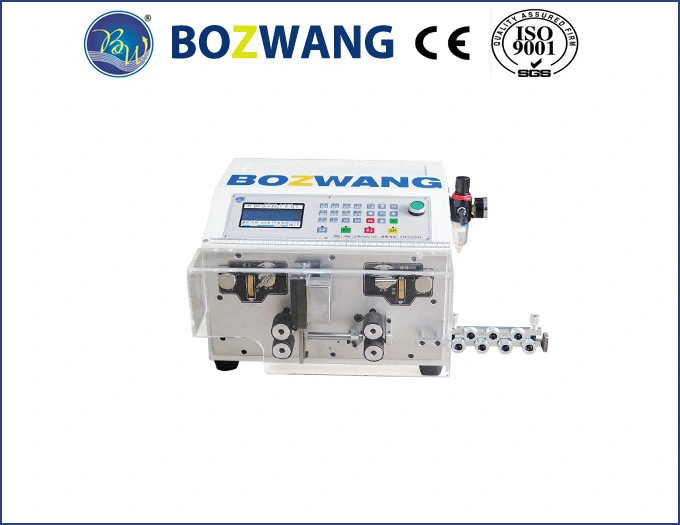 Product features
The device is controlled by computer and operated by pressing the button. The stripping speed is fast. Within the cutting range, the parameters of the length of wire, wire head, wire end and stripping could be set. It has the functions of auto quantified, bundle quantity, time postponed, middle part stripping and etc. which are stable in performance and convenient in operation.
Technical parameters:
1.Model: BZW-882DH (round jacket Model)
2.Outer dimension: 420 x 297 x 345mm
3.Weight: 31kg
4.Display: Chinese or English interface on LCD screen.
5.Power supply: AC180-240V<=50/60Hz
6.Power: 120-220W
7.Cutting length: 1mm-99999mm
8.Middle stripping: 13 stripping positions in the middle.
9.Cutting tolerance: 0.002 x L mm (within) x L= cutting length
10.Stripping length: stripping head: 0.1-250mm, stripping end: 0.1-100mm
11.Applicable wire core area: 0.1 -2.5mm2 x 3 cores (diameter less than 15mm)
12.Applicable wire: plastic, PVC, Teflon, glass linear materials. Round power jacketed wire
13.Max. Guide bushing diameter: 1.5-26 mm
14.Blade materials: imported high speed steel, tungsten steel
15.Drive: 4 Wheels driving
16.Stripping capacity per hour: 2000-6000 pieces
17.Precision for inlet and outlet motor: reactive stepping motor, each step is about 0.1mm
18.Remarked function: automatic pre-feeding and discharging, time setting for automatic starting, automatic shutdown while no wire or wire tangle.
processing effect