Latest exhibition information:
May 31-June 2,2018:Shanghai---AQUATECH CHINA
June 6-9,2018:Thailand---2018 Pumps & Valves Show
April 10-12,2018:Malaysia---2018 Asia Water Show,We are on site.
NO.1 About Product
Description
Single Pump Control Panel (M921) Which Reserved Space for Installing Start Capacitor
Pump Control Box model M921 measures the actual motor power (watts), not motor amps or power factor. The motor power draw at the moment of calibration is permanently memorized by M921. If the calibration power by more than ±25%, M921 will turn off the pump motor.This special layout makes it possible to realize the sensitive and reliable function of stopping protection against pump dry running without installing lower water tank (well) sensor, which makes it more convenient and economical to install deep-well submersible pump and pipeline pump.
P
arameter form
General details
Model
M921
Main technical data
Start type
Direct on line
Qty of controlled pump
Single pump
Protection method
Real motor output power(watts)by power factor
Rated input voltage
AC220V-240V Single phase
50HZ/ 60HZ
Rated output power
0. 75kw-2.2kw (0.5hp-3hp)
Capacitor
Reserved space for installing start capacitor


Protection function

Over load protection
Pump stalled protection
Dry run protection with sensor free
Under voltage protection
Over voltage protection
Repeat start protection
Application &
Control characteristic
Control and protect general pump
Using water level sensor , float switch or pressure switch or level/pressure transmitter to control pump start and stop
Applied for water supply by liquid level control through float switch or liquid probe
Applied for water supply by pressure control through pressure switch and pressure tank
Applied for drainage by liquid level control through float switch or liquid probe
Applied for drainage by level transmitter
Applied for water supply bu pressure transmitter
Applied for water supply by level transmitter
Other features
Pump last five faults record displaying
Pump accumulative running time displaying
Pump shaft anti-rust
LCD screen locked function under anto state
Present RS485 port
Main installation data
Working temperature
Working humidity
Degree of protection
Install position
Unit dimension (L x W x H)
-25ºC-- +55ºC
20%--90%RH, no drips concreted
IP54
Wall mounting
250×197×114mm
Typical Application Example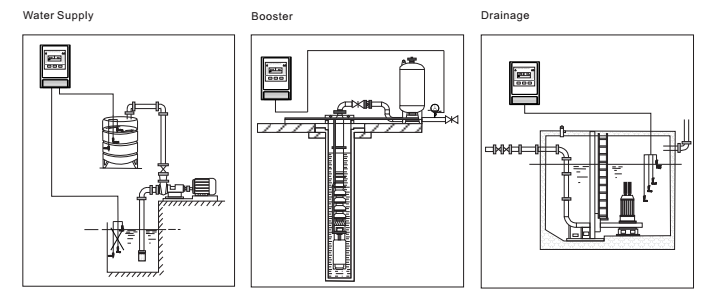 Typical usage scenarios include
-Houses
-Flats
-Holidays houses
-Farms
-Water supply from wells
-Irrigations of greenhouses, gardens, agriculture
-Rain water reuse
-Industrial plants
-Waste water tank / Sewage sink
NO.2 About us
1)Company Information
Brief Introduction
Since 2001, Leading Science & Technology company has been providing pump control and protection solutions to pump users.
Today Leading Science & Technology offers a wide range of pump control panel & pump control accessories for the pump control and protection market.
Our products: Intelligent Pump Controller, Sewage Pump Controller, Booster Pump Controller, Deep Well Pump Control Box, Submersible Pump Controller, Pump Motor Starter,Programmable Logic Controller, IOT Pump Controller, Reverse Osmosis Controller.
For more information, please visit:
pumpcontroller.en.made-in-china.com
O
ur office &
Team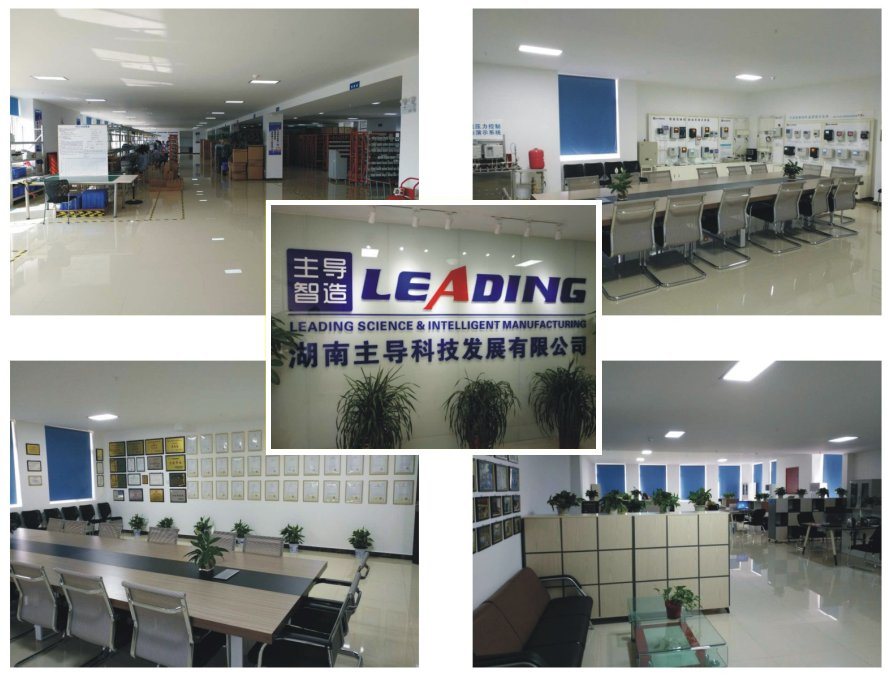 Leading company has three major departments:
1. Sales Team
2. R&D Team
3. Production Team
Sales team collect the information and technical requirements from pump manufacturers, pump distributors, pump users etc and report to our R&D team. According to the information, R&D team will evaluate firstly and start to research,develop and test the pump controller. Finally once the pump controller is workable, our production team will produce.
With our team members' close cooperation, Leading company has been developing many unique control and protection technology for pump industry.
2)Our trading fair&Communication&Feedback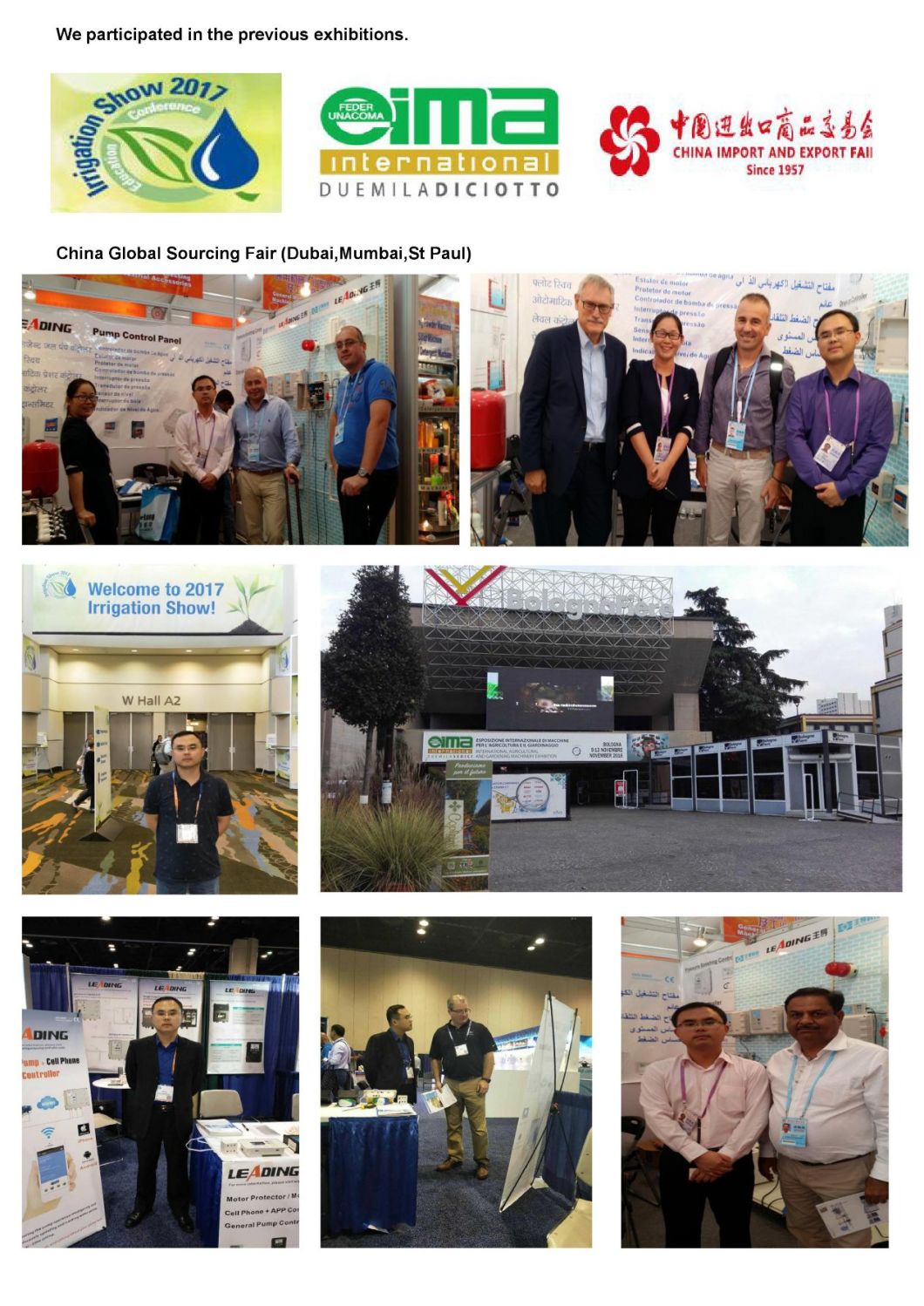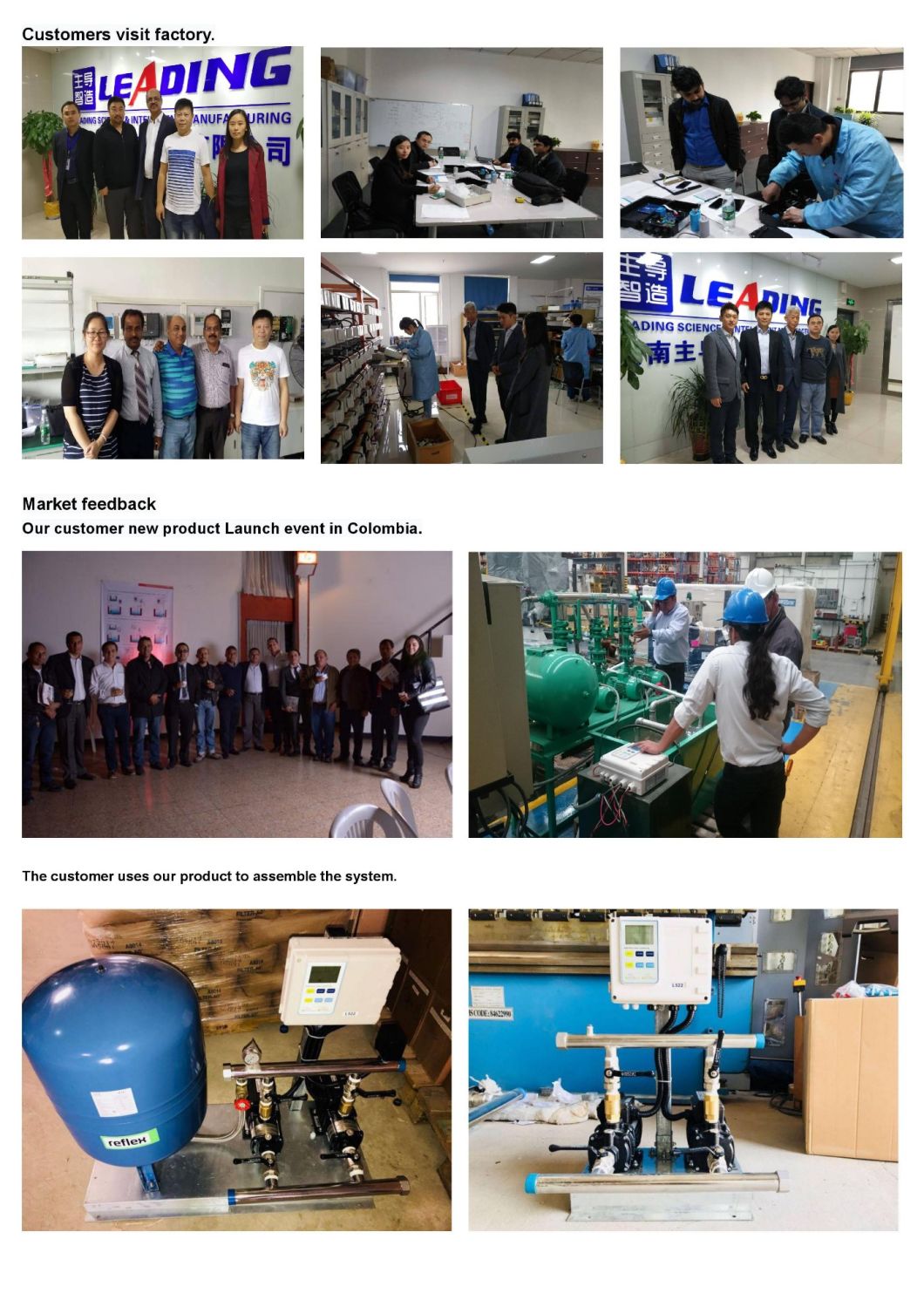 NO.3 Our production capacity



Welcome to our factory field trip.
N0.4
FAQ
Can i have some samples ?
Yes ,we can send you samples for testing,contact us for details
What's delivery time ?
For standard pump control panel ,it usually takes about 7 working days;
For non-standard,it usually takes 15-20days ,please contact us for details;
Can I do OEM or ODM ?
Yes,we have our own engineering team and we do accept OEM and ODM,but there is ordering quantity requirement;
How does your factory do the quality control ?
Our production process follow up the ISO standard and we control the product quality from the raw materials to the finished product,each of our control panel will be fully assembled and strictly tested before packing and shipping ;
What is the approximate life time for your control panel ?
The designed life time of control panel is 8 years ;
What is your after sales service policy ?
According to the ordering quantity,we will give some free spare parts or controller for maintenance or replacement and we will give technical training;
How can i trust you ?
We have being developing the pump control panel manufacturing and selling for 15 years ,now many pump supplier from China and overseas are using our controller to control and protect their pump and motor.
Where is your
location and
transportation guide?
From Guangzhou to Changsha takes 1hour by air, 2.5hour by high speed train
From Shanghai to Changsha takes 1.5hour by air, 5hour by high speed train
From Beijing to Changsha takes 2.5hour by air
From Hong Kong to Changsha takes 2hour by air