Weather-proof Type Double Stage Vacuum Transformer Oil Purifier 9000L/H
-Capacity 9000LPH
-Double Stage Vacuum Dehydration
-Double Stage Vacuum Degassing
-Three Stage Filter to 1micron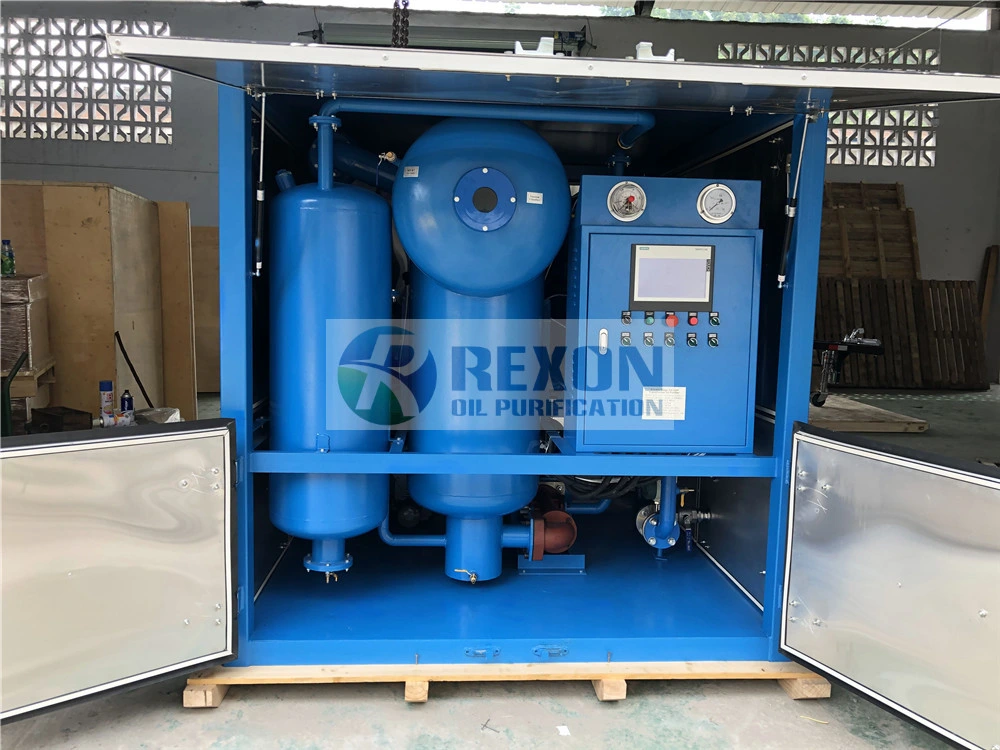 Brief Introduction
Machine Condition: New
Treatment Capacity:9000 L/H
Working Pressure: ≤0.4 Mpa
Place of Origin: Chongqing, China (Mainland)
Brand Name: REXON OIL PURIFICATION
Model Number: ZYD-150
Application: Transformer Oil
Power data: 380V 50HZ/3 Phase Or As Required

Function: Vacuum oil dehydration and degassing, oil filtering, removing particles, free water, dissolved water, gas, acidity completely.
After-sales Service: Free factory training & Engineers available for on-site commissioning.


Warranty:

2 Years

Oil Data After Process:
Impurity size after process: ≤1 micron
Gas content after process: ≤0.1%
Moisture content after process: ≤3 PPM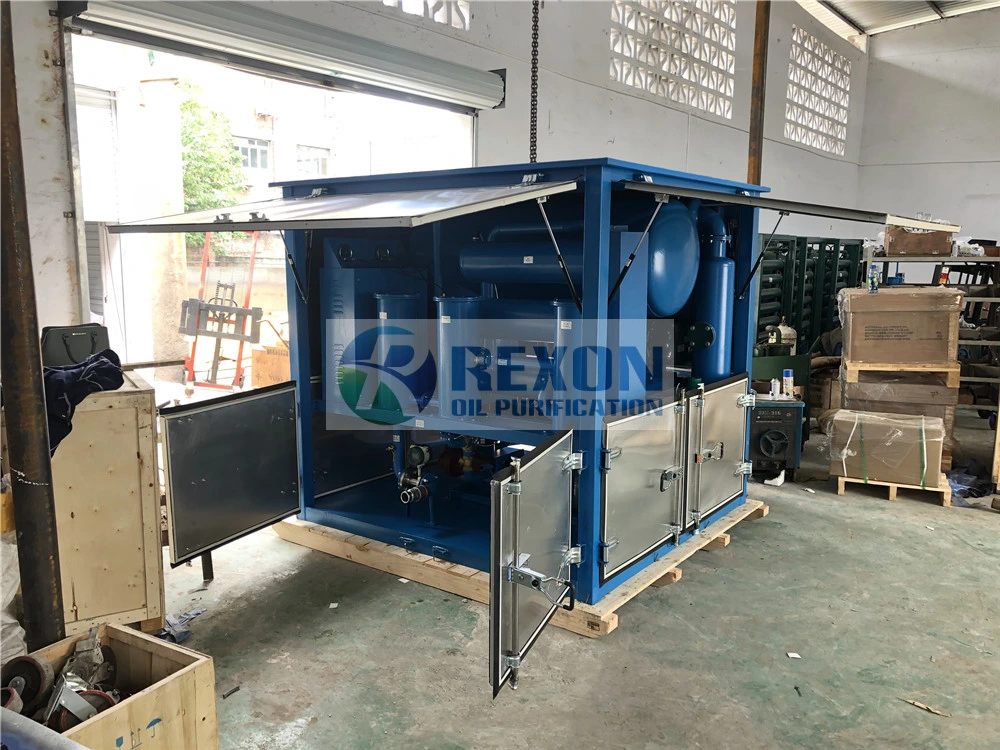 Application
REXON Vacuum Insulation Oil Purification System with Three-stage Filter Element can remove the water, gas and impurities in insulation oil high-efficiently, increasing the pressure force and quality of oil, make the oil limiting voltage-withstand value much higher and make sure the electric device running safely. The machine is mainly used for electric power department and industries to deal with various oils such as transformer oil, mutual oil, switch oil, dielectric oil and so on. It also can be used for filtration of more than 110KV substation live line work onsite. Meanwhile, as the bridge-type vacuum linking system, Series ZYD oil purifier can be used as independent vacuum source with functions of vacuum drying and vacuum oiling.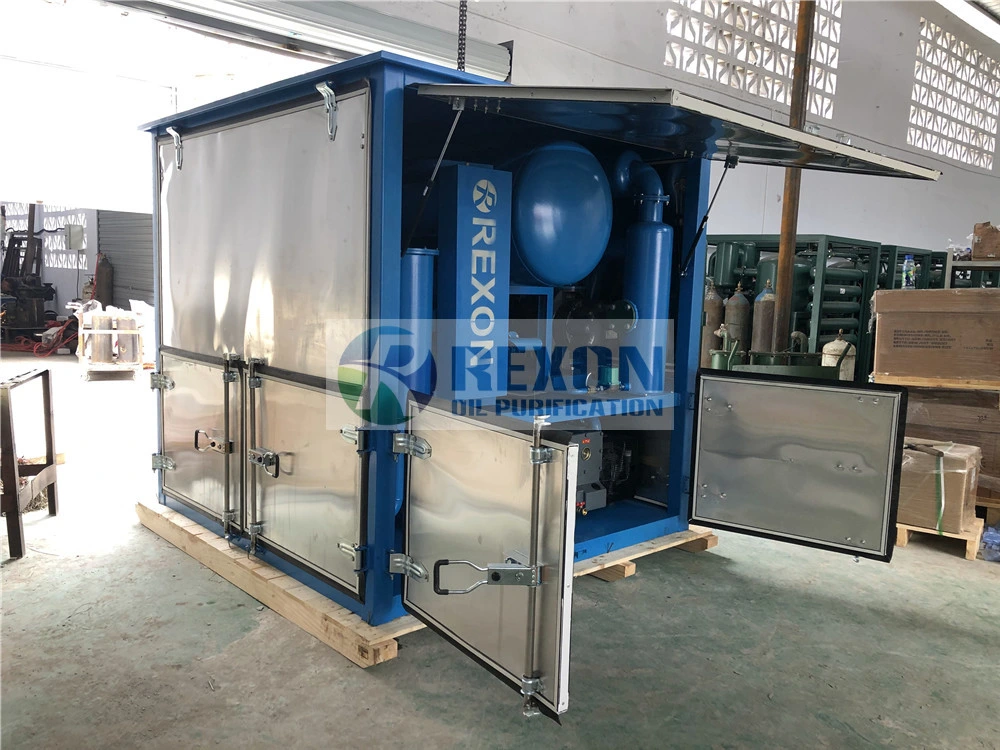 Features
1. This machine is high effective and portable, which is very suit to operate on line. Also it can be used to dry the electric equipment and input the oil into the electric equipment under the vacuum state.
2.The machine adopts the double-infrared liquid automatic controller, sensitive automatic pressure protector and the high effective equipment for degas, so it is easy to operate.
3. High vacuum limiting vacuum less than 5pa, working vacuum less than 35pa.
4. High absorption speed, absorption speed power more than 333L/Sr.
5. Duplex 3D stereo-evaporation technology, eliminating the liquid water very effectively.
6. UK G technology by which the trace water that is show chain, such as dissolved water, can be removed effect.
7. Distinctive removing impurities technology filtering through double FH trapezoidal network and absorbing by high polymer without the mechanical power.
8. Carbon fiber infrared heating system that can make the oil contains zero sum of ethyne after treatment.
9. The oil of any grades can be treated on line at the working site.
Advantages
REXON Series ZYD Vacuum Insulation Oil Purification System utilizes coacervation technology, coalescing technology, separating technology and refined purification technology. The Fully Enclosed Type High Efficiency Vacuum Transformer Oil Purification Machine for Power Plant Maintenance,Comparing with the single-stage vacuum oil purifier, series ZYD adds ROOTS vacuum system, second stage of separating system to improve the effect of purification which dewaters, degases and removes impurities more quickly, more completely and make the oils limiting voltage-withstand value much higher. This machine also can remove free, soluble water, carbon, free and dissolved gases and particulate matters from insulating oil effectively and rapidly. As the bridge-type vacuum linking system that can filter and be an independent vacuum power supply, this machine can be vacuum treating the electric insulating devices.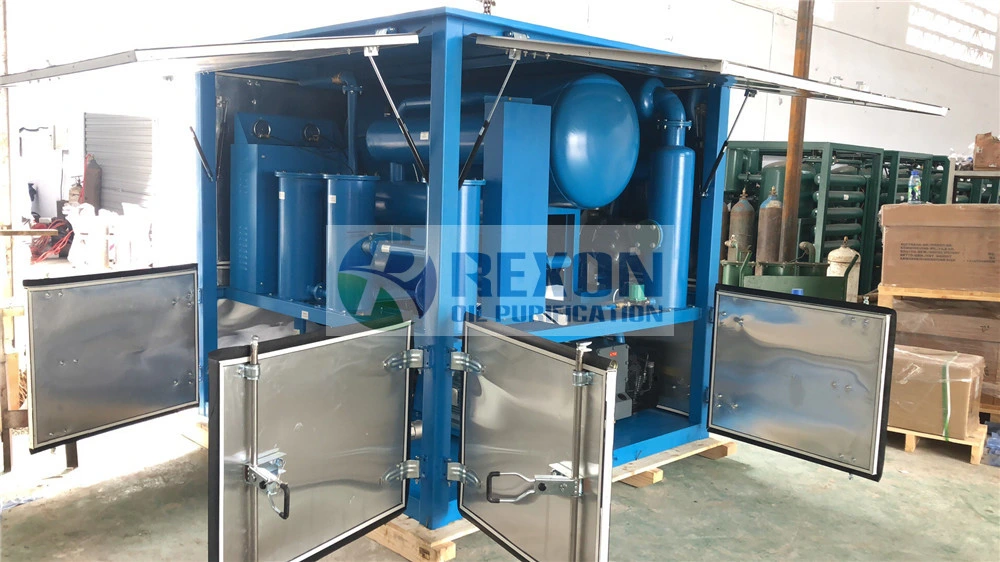 Technical Parameters
Parameters

Unit

ZYD-30

ZYD-50

ZYD-100

ZYD-150

ZYD-200

ZYD-250

ZYD-300

Flow Rate

L/H

1800

3000

6000

9000

12000

15000

18000

Working Vacuum

Mpa

-0.08 ~-0.099

Working Pressure

Mpa

≤ 0.3

Temp Range

ºC

20 ~80

Power Supply

380V, 50Hz, 3Phase( As per required)

Working Noise

Db

60 - 80 (Depended on the configuation)

Heating Power

KW

30

60

90

135

150

165

180

Total Power

KW

35

67.5

101.5

149

164

198

Inlet/Outlet Diam

MM

25

32

42

50

50

60

60

Weight

KG

450

550

750

950

1200

1850

2000

Size

Length

MM

1450

1450

1750

1850

1950

2050

2150

Width

MM

950

1000

1250

1300

1350

1400

1450

Height

MM

1700

1750

1950

2000

2050

2100

2150

AFTER TREATMENT

Dielectric Strength

KV

≥ 75-85

Water Content

PPM

≤ 3

Gas Content

%

≤ 0.1

Particle Size

μ

≤ 3

Cleanliness ≤NAS 1638 Grade 5
Our Transformer Oil Purification and Maintenance Machines can bring you:
→Purifying your transformer oil high efficiently
→Maintain your transformer oil always in good status
→Save your old transformer oil replacement cost
→Solve your waste transformer oil disposal problem
→Guarantee your transformers working normally with qualified oil property
→Protect your transformers and power equipment from oil pollution problems
→Reduce your maintenance time, energy and invest on transformers and power plant
→Create a safety and cleaning oil use environment for your transformers of power station
→Bring a green oil ideal to the world and save oil energy for all of our generations

We are the leading manufacture near 20 years experience and supply best quality and highest cost performance oil purification machines. Our oil purifier equipment are built by high quality raw materials with newest advanced technology by many skilled technicians and professional workers. We are honest to every customer and responsible for every machine we sold, we offer great after sales service, anytime when customer need us, no matter before or after purchase, we are available online or calling, to make a fast and instant response to customer. We practiced in this industry during all these years, and have rich on-site experiences too. Any on-site cases, please contact us for a solution.
Spare Parts: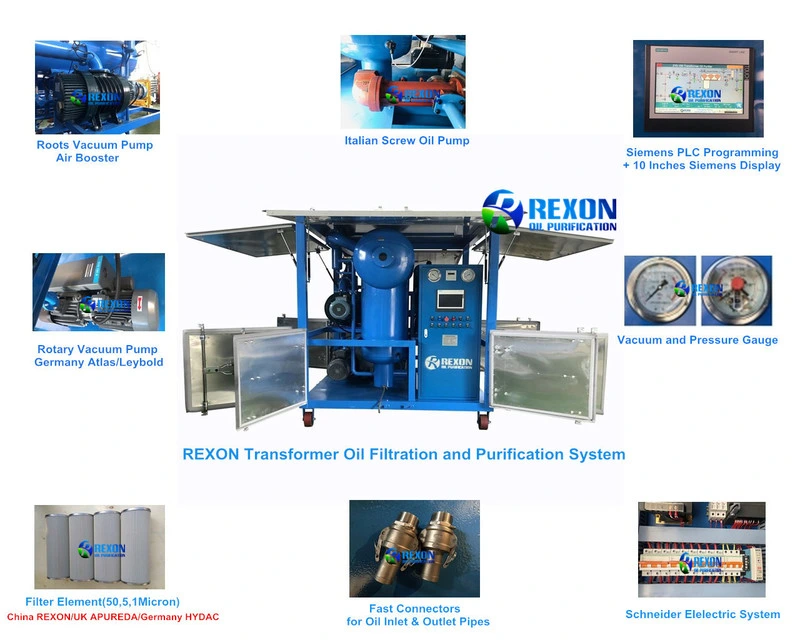 Other Machines for Transformer Maintenance
Insulating Strength Tester: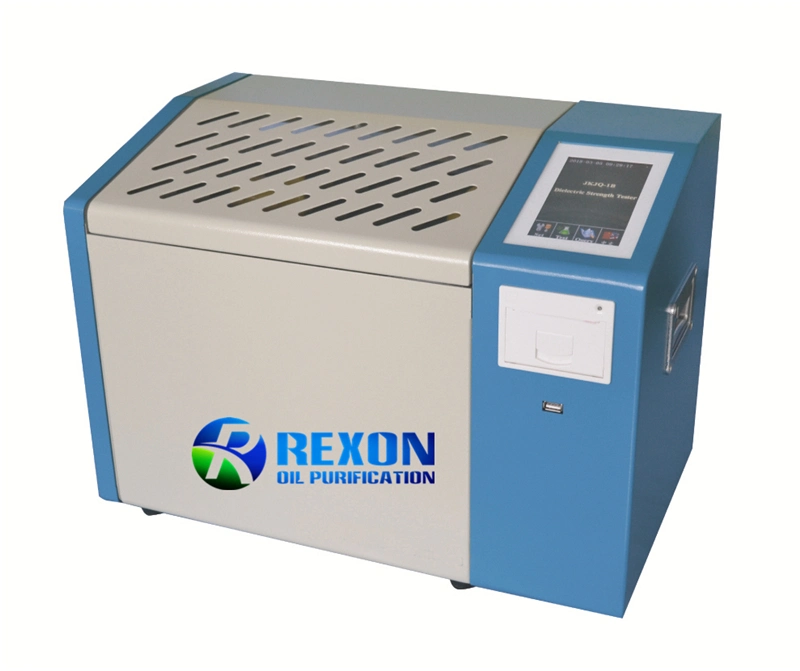 Dry Air Generator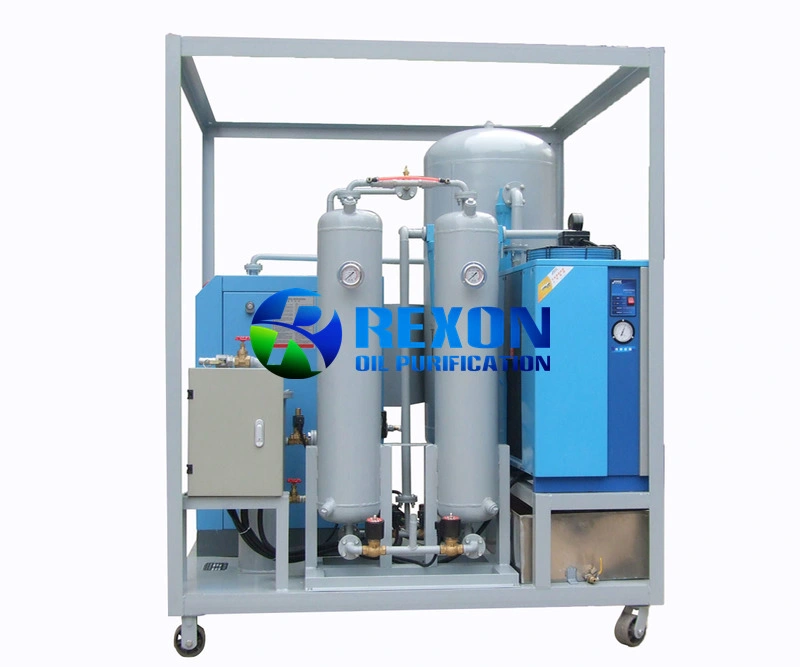 Vacuum Pumping Set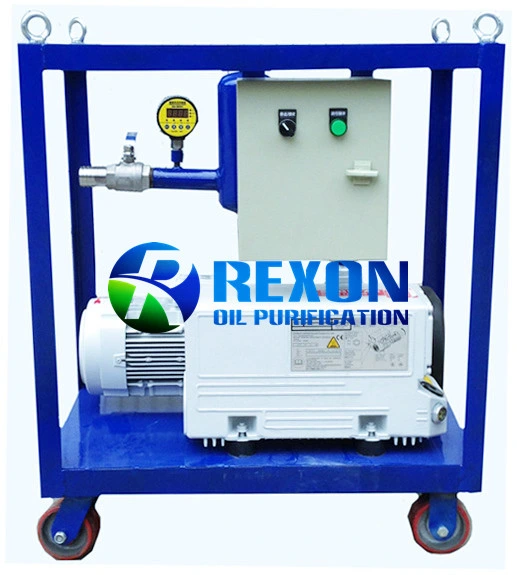 Customer Visit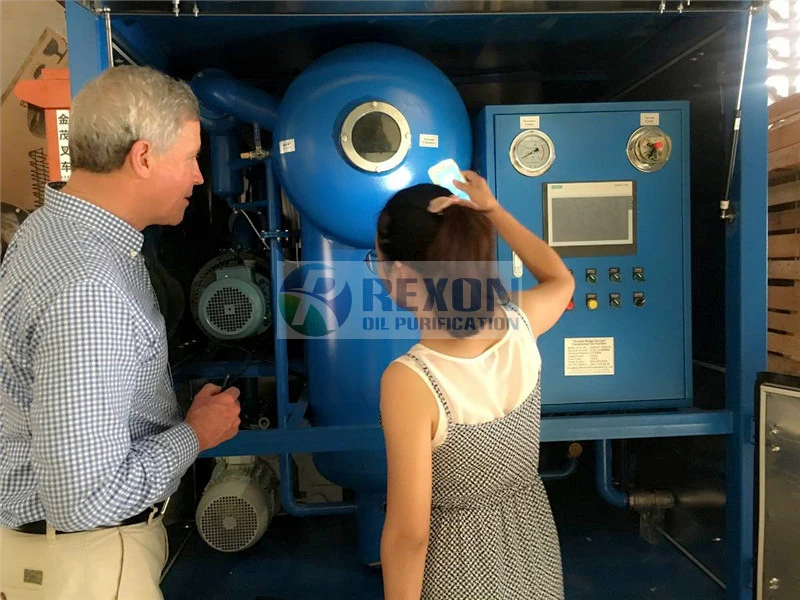 Onsit Project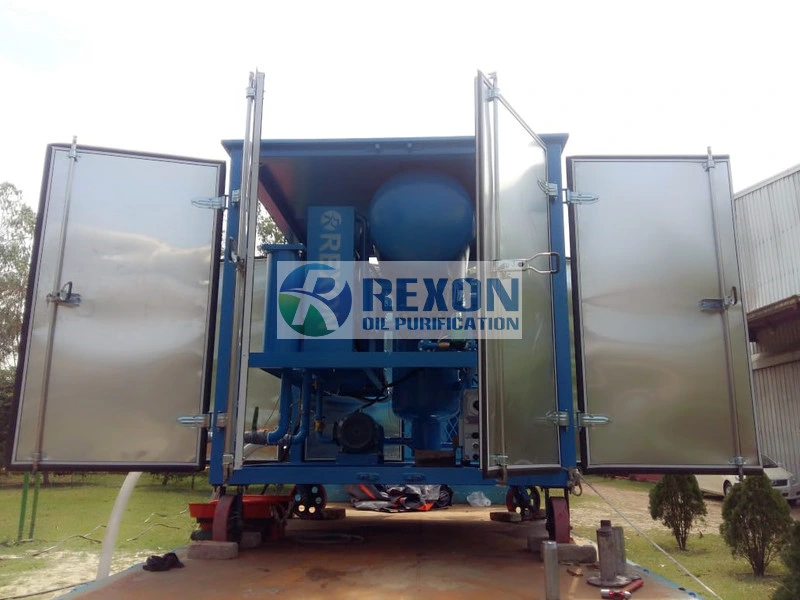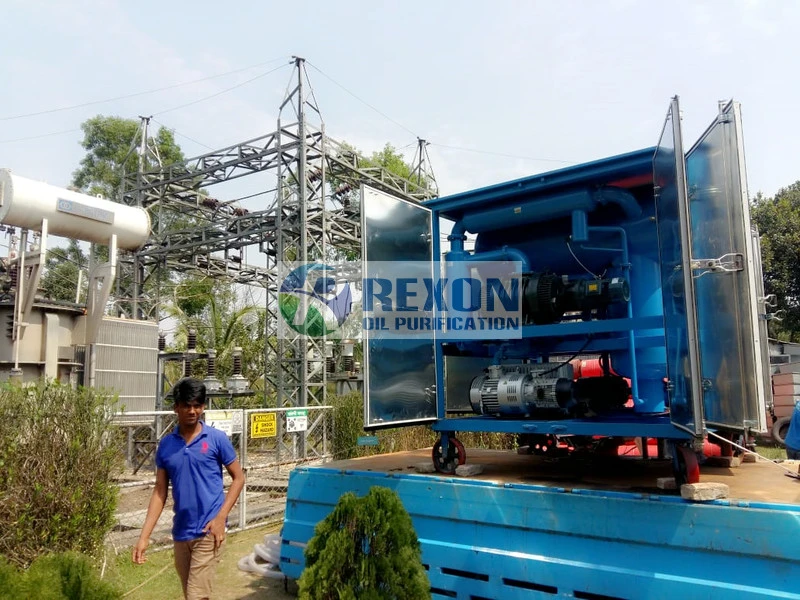 For more infomration and detailed product specifications, please contact us! Please leave us your email and mobile number to send you more photos , brochures and price details. Thank you!